A large part of keeping a company running efficiently and profitably is ensuring that all equipment is functioning optimally. To do so, routine preventive maintenance needs to be conducted. Unfortunately, regular equipment checks often go overlooked in certain areas of a company's operations mainly because attention is usually directed toward more pressing issues. However, when small tasks go overlooked for long periods of time, problems often follow; production errors, work injuries, and asset damage can all occur if careful tracking and maintenance aren't followed. A breakdown in critical equipment is costly both regarding repairs as well as downtime and delays in a company's productivity.
The problems outlined can be avoided with a computerized maintenance management software (CMMS) system that offers preventative maintenance as one of its key functions. With CMMS software in place, companies can get a birds-eye-view of all their facilities and locations to ensure that effective preventative maintenance schedule is a part of all standard operating procedures. Preventive maintenance software provides tools such as automatic triggers, email integration, set reminders, equipment information, and auto-assigned task which can streamline a company's entire maintenance process. Here are the steps in creating an effective preventative maintenance plan:
1. Create a preventive maintenance plan
Before any preventive maintenance (PM) procedures are put in place, it is important first to establish who will be involved in the preventative maintenance project. Depending on the company size, likely choices may include maintenance managers, maintenance techs and/or people from accounting or finance departments. Additionally, it is critical that staff members are fully invested in developing the program so that the PM maintenance implementation can be successful. A final aspect of creating a preventative maintenance plan is determining a goal for the project. Examples of PM maintenance project goals are: reducing reactive or corrective maintenance costs by X% or decreasing equipment downtime by X%.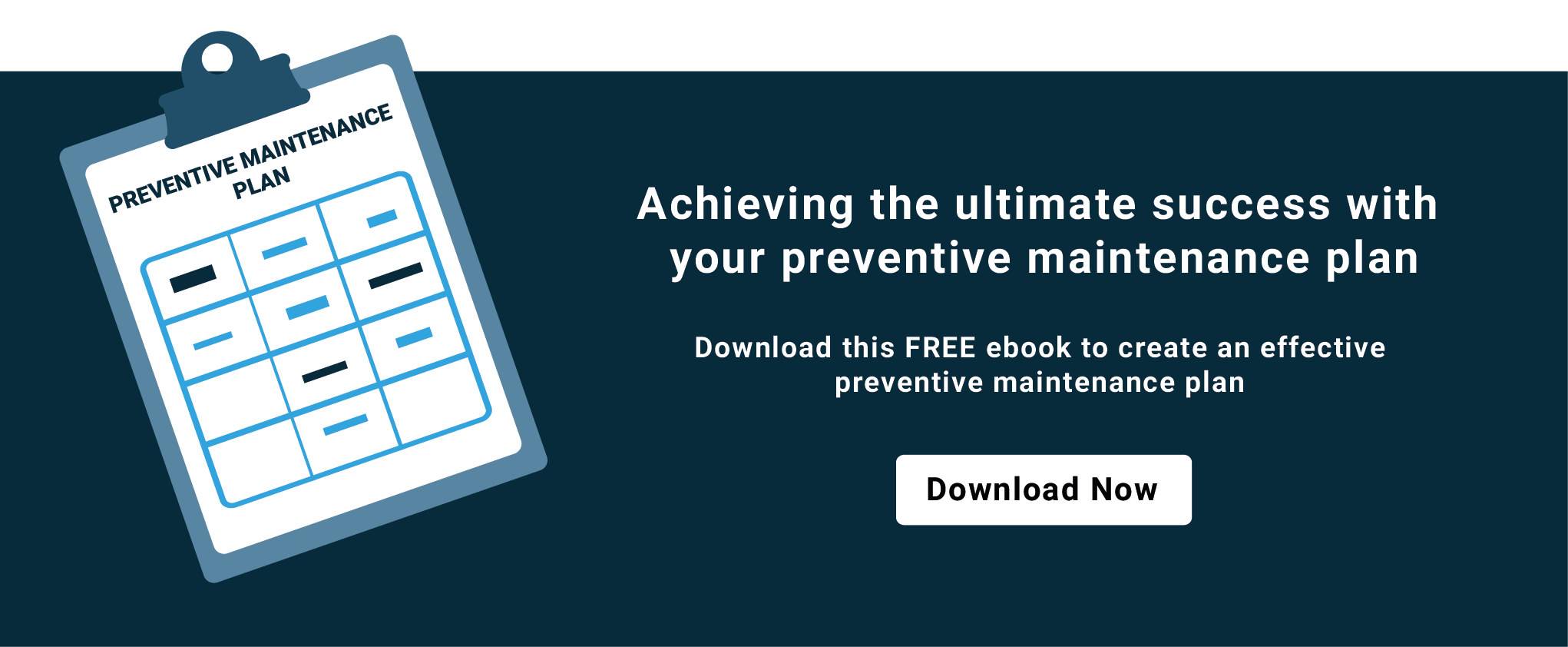 2. Inventory facility equipment/assets
The most time-consuming aspect of setting up a preventive maintenance program involves going through a facility and creating an inventory of all relevant equipment. Although a time consuming exercise, it is a critical one as it ensures that preventive checks are routinely be made on key operational equipment. As part of this task, it is important to take note of equipment make/model, serial numbers, specifications, asset identification numbers and fixed locations. Finally, documenting the current condition of the equipment can help prioritize its importance as part of a preventive maintenance program. EAM software offers ways for users to digitally track the location of assets that have been physically tagged. It also stores asset information and inventory data, and can alert managers when spare parts stock is low.
3. Create preventive maintenance procedures
Once a list of equipment has been made, the next step is to determine the tasks or jobs required to maintain each piece of equipment as well as the frequency with which these tasks should occur (i.e., weekly, monthly, quarterly, semi-annually, annually). There may be times when preventive maintenance is best suited to be scheduled around run-time hours while for other assets, other meter based triggers are more appropriate. Whichever is the case, it is important to make note of these different scheduling scenarios while also estimating how much time may be needed to perform the PM with work order software.
Most preventive maintenance programs accommodate schedules based on run-time hours, but having prior knowledge of how often these may occur will assist in a company's scheduling process. Preventive maintenance procedures can be determined based on prior corrective maintenance experiences or by referencing owner's manuals and manufacturer recommendations and documented industry standards. An important part of creating preventive maintenance checklist is making a list of tools and internal and external resources needed to complete each job. In summary, a preventive maintenance plan should include the following: a parts list, standard operating procedures (SOPs), safety/lockout procedures and estimated time to complete the PM tasks.
4. Create preventive maintenance schedules
Preventative maintenance scheduling is critical to company operations since these occur regularly and involve time, energy and staff resources to complete. In creating a preventive maintenance schedule, it is important to make a list of high priority items; these will be the starting points.
Preventative maintenance programs take time to be created and it is best to schedule the highest priority maintenance before overloading staff with tasks that rank lower on priority. The initial preventive maintenance goals established will direct which assets should be prioritized.
For example, it is important to identify which equipment is most costly to a company regarding repairs, downtime and value to operations. Once high priority items have been identified, it is recommended to begin by scheduling preventive maintenance tasks with longer intervals first (i.e. annual, semi-annual, quarterly).
Equipment requiring preventive maintenance on longer intervals generally require the most time and resources, and because of this, scheduling may be best during specific times during the year (i.e., plant shutdown, at the beginning of heating/cooling season.)
Once high priority long term preventive maintenance is completed, scheduling tasks with shorter intervals and more frequent cycles (i.e., weekly, monthly, etc.) and low priority items should follow. Since these preventive maintenance tasks generally require less time, they can also easily fill the gaps between the long term and high priority preventive maintenance.
It is important to realistically plan preventative maintenance schedules by striking a balance between preventative maintenance and the time needed to address corrective or emergency maintenance as well as other projects that will likely surface.